NEWS
"Kathleen Noone's wisdom continues to inspire us to interact in our world from a more heart based perception," director, producer Jean Trebek.
Please join Kathleen at the North Hollywood Church, 6161 Whitsett Ave (corner of Erwin and Whitsett) on Wednesday, Sept 25 at 7 pm where she will be speaking on "Losing your Littleness". There will be great music, a good supportive message and birthday cake and pie for those who have birthdays in the month of September.
Journey into Togetherness
by Kathleen Noone
First Performance as part of
Boldfaced Secret Storytime production
at Echo Theatre
It was a spring Saturday around 1980, one of those graaaaay days in NYC. I had the weekend off from ALL MY CHILDREN, the studio show, where I worked and as I looked out the window of my 29th floor apt. on the corner of 70th and Broadway, and thought about what adventure I'd like to have that day. It came to me to go down to the village, find a wonderful old bookstore and get a really good spiritual book for myself.
| | |
| --- | --- |
| So, I take off and soon find myself on one of those wonderful Brownstone-filled side streets; beautiful older buildings that are 4 or 5 stories high and are individually owned homes or apts. About 100 yards from the corner I see the hand printed large sign, Books, with an arrow pointing down towards a basement. I enter this semi-dark wide space, with floor to ceiling windows looking out over a garden area. My eyes adjust, and I notice several nook and cranny areas holding books. I look around, enjoying the space. The owner, a man with this rich, thick white head of hair, asks if he can help.  I tell him I'm looking for a really good Spiritual book to read tonight, and he says, "ah ha!" Then he stares at me, and stares at me……..and stares at me.  Finally, he says "I have just the thing."  He beelines to a shelf, as if he knows where every book in his store is, and comes back with "MIRACLE OF LOVE," by Ram Dass, once a Harvard professor in the School of Psychiatry and now a spiritual trail blazer for his generation.  This is a book of anecdotes about his spiritual teacher, Baba Neem Karoli.  Ram Dass spent a lot of time with Baba in India, and wrote a number of books about him, spirituality and the human condition. | |
I get the book and start for home, looking deliciously forward to my evening of reading.
Later, I get into bed, pillows at my back for comfort, on my lap for the book. Hot tea on my side table. I begin to read…
| | |
| --- | --- |
| | Each chapter starts with a different, full page picture of Baba, by himself or with other people.  I come to chapter 9, Key to The Mind, look at the picture with Baba's smiling face, his blanket wrapped around him, and it's as if a lightening bolt comes down from the crown of my head, hits the base of my spine and flies back up again. I'm gone -- in a state I can only describe to you as ecstatic.  For seconds, I'm out of my self, small s, and into a state of bliss, a higher Self.  White light in me, around me, through me.  I slowly begin to come out of this momentary state, look to the clock on the table and see that fifteen minutes have gone by.  HOLY GOOD NIGHT, MARY ELLEN RYAN, AND ALL THE SAINTS IN IRELAND, yes, that is an Irish thing, what just happened to me?? |
I sit, basking in that extraordinary feeling and say out loud to my Self, Capital S, "may I have the privilege of meeting an enlightened being like Baba, this time around, on earth."
When I set an intention, like that, I usually get some kind of answer in a 3-day period.
The following Tuesday, I had an interview with a reporter, Joan Goldstein, for a magazine.  We chat and eventually begin to talk of spiritual matters.  I tell her of my experience while reading Ram Dass' book, and she says, Muktananda is in town!  Um.. okay… WHO IS MUKTANANDA?! She tells me that he's a spiritual teacher from India with an ashram in South Fallsberg, NY., and one on W. 86th street Manhattan.
I didn't know much about ashrams, never having been to one before, but guess where I was that night… up on 86th street, knowing only I was meant to be there. It was all a little weird to me, but I made arrangements to go to South Fallsberg that weekend.  
I arrive on Friday night, check-in to this place that looks like a 1950's hotel in the Catskill mountains. I fall asleep only to be awakened around 4am by… chanting.  I thought OKKKKKK, that's nice but turn over and go back to sleep till around 8.  I put myself together, and head down stares to find out what you do on a weekend at an Ashram.
I'm guided to the theatre where the morning program is about to start.  As I enter, I again heart the chanting.  Inside there are no chairs, just semi-circle stadium-type rows facing a stage with a big, elevated chair, draped in fabric, center stage. On a screen above it are the words of the chants that are being sung as people enter the room. OM NA MA SHIVIA, JAY RAM, JAY RAM.  It's all in Hindi so I don't have a clue what it means, but I'm an actor and love to sing, so I go with the flow and start singing and swaying.
Muktananda enters.  He is a small man, wearing saffron robes. He sits in the big chair center stage and begins his talk. Then he answers questions, and after, comes through the aisles, stopping in front of individuals that he is drawn to, to give Shaktipat, which opens up the energy channels of the chakras.  He stops in front of, MEEEEEE!  Puts his fingers over my eyes, saying something in Hindi, grabs a peacock feather from his assistant and smacks me in the head with it. And all I'm thinking is I want to touch his feet!  I want to touch his feet?! Hello, what is going on here?!! 
Later, there is a Darshan line to meet the Guru. Joan Goldstein, also there for the weekend, is by my side as we head towards the stage to greet Muktananda.  She wants to introduce me to him.  As we get closer to him Joan asks me to kneel next to her and says, "I'm going to tell him you're on television."  I immediately tell her "Noooooo! That is nothing. Means nothing in front of a Guru."  We start our bow of respect and on my way down I hear, "She works on television and she doesn't want you to know it." OH MY GOD!!  I know I have to look up at him, so I slowly raise my head and he looks directly at me and beckons me to come to him.  My insides are dancing around in circles thinking what have I gotten myself into? I have not made out my will. My parents don't know where I am, and I am about to be zapped by this Guru IN THIS CULT.
I awkwardly scoot over to him on my knees.  He extends his hand for me to take, looks at me with the most compassionate eyes, and simply says, "If it's not important to you, why would it be important to me?"  With that simple statement I am thrown back on my heels with a force that cracks open the egg of the ego and smashes its old paradigm of thinking out a small self-confinement.
I was raised Catholic and taught that humility was never bringing attention to yourself.  Never think too big.  It's selfish.  Muktananda gave me the simple and great lesson to celebrate who and what I am at all times. In that moment, my small self and my large Self came together to be in union, and it was the greatest, most powerful sense of togetherness I'd experienced in my life. It is all a gift to be appreciated. The power of that has carried me through my life in times of both celebration and sadness.  To this day, I'm still growing and expanding, and I know that will continue for me.  Also, and most importantly, Baba Neem Karoli Has been a directive, oh so loving force in my life to this day.  Thank you Ram Dass for bringing Baba into my life and for writing all your incredibly helpful books.
| | |
| --- | --- |
| Kathleen was one of the 'storytellers' at The Echo Theater Company's BOLDFACED SECRET on Wednesday, April 17, 2019. It was a great evening to come, hang out, listen to some great stories! | |
| | |
| --- | --- |
| "This week a wonderfully gifted, fun, creative, mischievous, bright, intelligent, spontaneous, good soul, good man, great father, loving husband, friend, whom I had the privilege of working with for 11 and ½ years on ALL MY CHILDREN, Mark La Mura, lost his battle with lung cancer. This is heartbreaking for those of us who loved him, and his beautiful wife Liz, whom he adored and his daughter, Gabrielle, whom he was so proud of and his heart sang when he talked about her. His journey here is finished. His life takes on another form. I will always hold him in the heart of love. I was gifted to be able to work with such a good, amazing soul. Rest in Peace Sweet friend." Kathleen | |
Passions Fan Fest
Kathleen is confirmed to attend the Passions Fan Festival on Sunday, July 23, 2017. Click Here for more info.
Hallmark Channel's Home and Family
Kathleen was a guest on the Hallmark Channel's Home and Family show on Feb. 2, 2017 as they honored Agnes Nixon, the creator of All My Children. Kathleen was joined by her co-stars from the show Susan Lucci, Peter Bergman, Eva LaRue, and more.
Next Door
In Novebember 2016 Kathleen filmed the independent film Next Door, which is scheduled to be released sometime in 2017. The film is about a young woman who accepts an offer from her therapist neighbor to be treated for free and thinks she's found the perfect situation. But the more she learns about her seemingly altruistic savior, the more she begins to fear for her safety. Released from MarVista Entertainment and directed by Kenny Gage and Devon Downs. Check back for updates.
MTV'S Faking It


Kathleen guest starred in the new MTV com comedy FAKING IT, which premiered on Tuesday, April 22, 2014 at 10:30pm ET/PT. 'Faking It' is a new romantic comedy about two best friends who love each other -- in slightly different ways. After numerous failed attempts to become popular, the girls are mistakenly outed as lesbians, which launches them to instant celebrity status. Seduced by their newfound fame, Karma and Amy decide to keep up their romantic ruse.
Bette Davis Speaks

Bette Davis Speaks" is a hilarious, deliciously bitchy evening of the hard earned wisdom and delightfully acerbic wit of one of the most iconic movie stars in the history of motion pictures. For twenty years journalist Boze Hadleigh interviewed the Hollywood legend and the result was a gossipy, wise, funny and ultimately moving, guilty pleasure known as "Bette Davis Speaks." That play has now been adapted for the stage by playwright and screenwriter Dan Gordon. From Miss Davis' famous feud with Joan Crawford ("I did not feud with her. I hated her guts. But we did not feud at all. We got along just like the sisters we played in 'Whatever Happened to Baby Jane.' The truth is the best time I ever had in my career was pushing her down those stairs") ... To her delightfully wicked comments on her contemporaries ("Clark Gable? Supposedly his wife once said that if he had one inch less he would have been the Queen of Hollywood instead of the King. Ronald Reagan? He wasn't a star, he made movies. But then so did Hop Along Cassidy. Bogie? He had good taste, especially in women. Tallulah Bankhead? She had good taste in women too. Clara Bow? I don't want to call her a slut, but I don't know what else to say.") "Bette Davis Speaks" is one of the most delightful evenings you will spend in the theater this year. "Bettie Davis Speaks" is one guilty pleasure you can't afford to miss.

The play starred Kathleen and Linda Gray, and ran from Jan. 27, 2011 to Feb. 20, 2011 at the Indian Wells Theater, located in Palm Desert, CA.


Kathleen guest starred in the first two episodes of the fifth season, which began on Sept. 26, 2010 on Showtime. Check your local TV guides for the times and channels in your area.
Watch the 5th season's trailer on the Multimedia page.
"About Fifty" was the opening night film of the Fort Lauderdale Film Festival in 2011, as well as the opening night film of the Daytona Beach Film Festival the same year. The festivals serve as the launch for the film's theatrical release.
"About Fifty" had its world premiere at the Palm Springs International Film Society on Friday, Jan. 7, 2011 at the Camelot Theatres to a sold out crowd. Watch the trailer on the Multimedia page.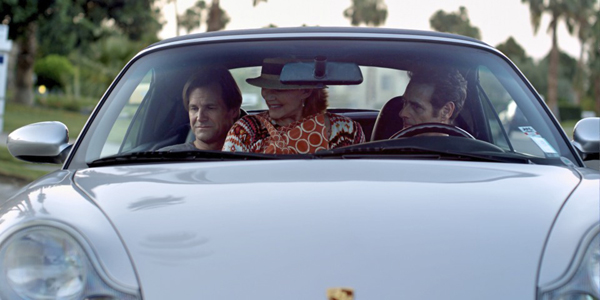 Synopsis: A "coming-of-age story about the coming of age," Thomas Johnston's comedy tackles a very timely subject in these times of aging baby-boomers: what happens when youth, with all its attendant hopes and dreams, is confronted by the reality of that 50th birthday making its increasingly rapid approach. For Adam (Martin Grey) and Jon (co-writer Drew Pillsbury), life in Los Angeles has taken a turn for the melancholy. With their careers solidly stuck in holding patterns, parents that are becoming increasingly in need of care, and the memories of lost love and divided assets looming large, our heroes decide on a course of action: escape. To the desert, that is, for a weekend of battery recharging in lovely Palm Springs, no less. Rather than spoil things by revealing too much, we will just say that—in the tradition of the best road-movie comedies—what starts out as fun and games soon evolves, as both men must come to terms with their pasts and look forward, however horrifying it may appear at first glance, to a post-50 future.

Variety Review ... Feb. 1, 2011
About Fifty

A bracingly candid, frequently funny portrait of
male friendship at middle age.
By Lael Loewenstein
Part road movie, part coming-of-age story, "Fifty-Nothing" is a bracingly candid, frequently funny portrait of male friendship at middle age. Smartly written and directed with a welcome lack of snarkiness, the film finds two Angelenos navigating such midlife indignities as colonoscopies, blind dates and the senior golf circuit. With a targeted and sustained marketing effort, pic could certainly recoup on a theatrical release; at the very least, it's an impressive calling card for helmer Thomas Johnston.
Given recent atrocities like "Old Dogs," the very notion of a thoughtful, intelligent comedy about a friendship between middle-aged men seems like an oxymoron. But "Fifty-Nothing" neither exploits nor condescends to the unpleasant aspects of growing older; it confronts them directly and with due humor.
Scribes Johnston, Drew Pillsbury and Martin Gottlieb use prickly topics like hair loss, dating anxiety and chronic pain as departure points, allowing them to explore a range of male vulnerability and desire. And most of the female characters also have an age-appropriate depth that's increasingly uncommon in comedies these days.
In an effort to distract his miserable, just-divorced buddy Adam (Martin Grey), ladies' man Jon (Pillsbury) arranges a trip to the desert for some golf therapy. Shades of "Swingers" are evident, as the socially awkward Adam reluctantly accompanies his cool, confident buddy on the drive to Palm Springs.
Along the way, the guys bond, bicker, and encounter several women including Peggy (Kathleen Noone), a frighteningly horny sexagenarian; Alix (Michaela McManus), a gorgeous coquette who's much too young for Jon; and Kate (Wendie Malick), who's smart and funny -- and happens to be Alix's mom.
When Alix, hoping to set up Kate and Adam, arranges a dinner party, a memorable, awkwardly funny evening ensues. Cautious and skeptical, Kate and Adam don't immediately click, but beneath their brittle exchange it's clear they yearn to connect. It's a credit to Johnston's measured direction that he allows the evening to unfold so naturally, and to Malick and Grey's performances that their dynamic feels so believable.
Less believable, perhaps, is a far-flung scene in which Jon, high on painkillers after a back injury, finds himself the unwitting recipient of one siren's affections. Johnston plays the scene for laughs, artfully setting up and revealing a comic surprise that also serves as a kind of comeuppance.
There's an awful lot of talking (and a few belabored metaphors) between the men on the golf course that briefly detracts from "Fifty-Nothing's" otherwise fluid pace. Pic could also benefit from a song selection more rooted in the '70s to help underscore the age-specific humor and overcome occasional pacing lapses. Tech aspects are solid throughout, as is thesping, right down to the supporting players, including veteran Noone ("All My Children"), Steve Hytner ("Hung") and Jessalyn Gilsig ("Glee").
By way of audience consideration, it's worth noting that some of the cast members from that Gen X classic "Reality Bites" will be closing in on 50 in just a few years. "Fifty-Nothing" is a refreshing, amiable reminder of an underserved demographic waiting to be acknowledged.

AFTRA Welcomes 'All My Children' to Los Angeles

LOS ANGELES (Jan. 22, 2010) – The American Federation of Television and Radio Artists (AFTRA) – the people who entertain and inform America – formally welcomed ABC's "All My Children" to Los Angeles on Jan. 21 at a private reception following a panel discussion celebrating the show's 40th anniversary co-hosted with the Paley Center for Media in Beverly Hills.
Welcoming the more than 150 invited guests at the Paley Center, AFTRA President Roberta Reardon said, "From 1937 – when AFTRA was founded – to today, and for the more than 40 years 'All My Children' has been on the air, daytime dramas have employed thousands of AFTRA actors, singers, dancers, stunt performers , background actors and other professional performers. It is the daytime drama – more than any other medium – that that has given birth to the full-time working television actor. To our panelists and other cast members here tonight, I say: AFTRA members salute you."